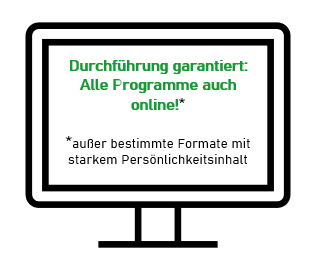 PROFESSIO CAMPUS -
for your personal development
We conduct our events in face-to-face format. However, if the situation should require it, we are always able to switch to online formats for many of our offerings. In this case, we will inform our seminar participants in good time. If you have any questions about this, please feel free to call us.
Life is a journey. You decide for yourself how to travel on this journey: Whether on a train, enjoying the view. As a train driver on a fixed rail network. As a car driver, spontaneously deciding which route to take and how fast. As a captain or pilot with great responsibility for many passengers on the high seas or in the air. PROFESSIO supports you as a specialist and manager on your personal and professional life path with CAMPUS - an open seminar and study program for leadership, coaching, change management and personality.
No one knows what the future will look like. What tasks and challenges lie ahead. But you can already prepare for them today! How? By deciding to take advantage of all opportunities. Build on your strengths! Discover and promote your talents! Together we will unfold your potential and strengthen your competence. Increase your self-confidence and social skills. More than 25 professional consultants, coaches and trainers will be happy to accompany you on your personal journey into the future.
We focus on active learning in our offerings. We focus on content and methods that help you get ahead: Personal. Privately. Professionally.
A head start through specialist knowledge and expertise

(Professional) life is changing rapidly. Leaving your comfort zone is not always easy. Whether you're a young professional, a specialist or manager, a trainer or consultant - everyone has to face change more often and more quickly. Our seminars and courses support you in this process.
And you are not alone, because our consultants and trainers accompany you on this path. Benefit from our many years of experience, our proven experts and their specialist expertise. The combination of all this makes us a perfect partner for executives and managers, specialists and young talents, but also teams and departments within companies and organizations.
Our motto: Together as a team to success - personally and professionally.
Online learning platform

Learning takes place every day and everywhere. At PROFESSIO, too. We have set up a central online learning platform exclusively for our participants and customers via the ILIAS learning management system. There is a closed and delimited virtual "room" that is only used by PROFESSIO. For many organizational things, but also features for pre- and post-support of seminars and courses. You can also exchange information with other course participants and your advisors there.
Are there still free places? How can I get more information about my seminar? The PROFESSIO Office has answers to your questions.
Phone: +49 (0) 981 9777876-60
Monday to Friday from 8 to 14 o'clock
E-mail: campus@professio.de